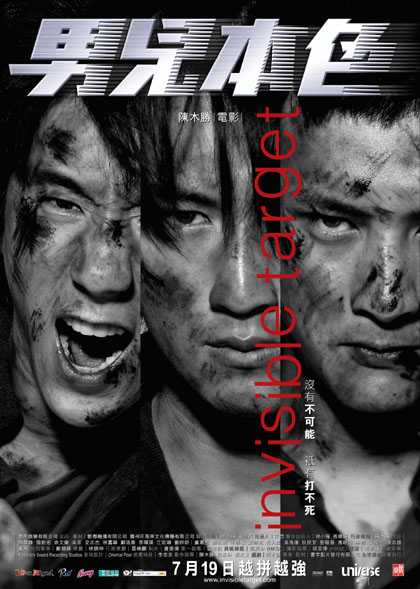 Yesterday, total of 8 person including myself, HHTHJM and my lovely second wife watched Invisible Target at Cineleisure. Invisible Target, a Hong Kong martial arts-crime film directed by Benny Chan. It stars Nicholas Tse, Shawn Yue and Jaycee Chan as three police officers who are thrown together due to their backgrounds to bring down a criminal gang of seven led by Tien Yeng-seng (played by Wu Jing). An armoured truck is secretly transporting $100 million for a US bank when it is hijacked by a band of robbers calling themselves the "Ronin Gang". The gang blows up the truck and makes off with all the cash. It is a cop vs thief action packed movie.

I did not give any much expectation on this movie. But surpise surprise, this movie is awesome, highly recommended. Love the funny scene when 3 of them were half naked helping each other to apply ointment. I really can feel the ghayness to max, nearly had a hard on also. Hehehehe.. The action scenes was tremendously good and adrenalin pumping till kept HHTHJM grasping hard on her seat. She nearly break the arm of the seat. Overall, awesome movie to watch since New Police Story. Only that the story line a bit so so nia and predictable except for the part where one of them kill during the mission. HHTHJM cried her lung out!!! Hehehehe.... In addition, stay back and continue watching after the movie ends!!! You can watch Nicholas and Shawn does their own stunts!!! Cool stunts!!! WE ARE POLICE (Ngo Dei Hai Kheng Chat!!!), dun play play!!!

After the movie, we head out to look for food and decide to have pancakes at Paddington House of Pancakes. A bit fancy and expensive but the food is nice and outstanding. The pancakes is yummilicous!!! Check out the trailer and some camwhoring session!!!


Invisible Target Trailer


Invisible Target Promotion Copy

Gangster of paradise...
Paddington House of Pancakes...
Ais kosong and roti canai, please...


Galette? What is that?
Heaven of pancakes...
Ok!! Where the hell is my ais kosong and roti canai!!!
Yummilicous Hot Choco...


Tokyo Pannekoek...High recommended...
Amsterdam Pannekoek...
Three stooges... I meant sisters...
Pancakes with strawberries and ice-cream...